Kim Kardashian can pursue an emergency order against Kanye West if he continues to post public rants on social media, a lawyer has said.
The Donda rapper has been airing his views and opinions on Instagram about how his estranged wife is raising their daughter North, his deep love for Kardashian, and his anger towards her new boyfriend Pete Davidson.
The 44-year-old also shared screenshots of his private text conversations with the reality TV star, as well as hitting out at rapper Kid Cudi and singer Billie Eilish in a number of worrying posts over the last week.Kanye West Apologizes to Kim Kardashian in Viral Instagram PostREAD MORE Kanye West Apologizes to Kim Kardashian in Viral Instagram PostNEWSWEEK NEWSLETTER SIGN-UP >
The public nature of West airing his family issues to millions of followers has prompted concern for his mental health and for Kardashian's wellbeing, with fans even urging her to take out a restraining order against him.
Trial attorney Holly Davis of Austin, Texas-based Kirker Davis LLP said that the rapper—who has changed his name to Ye—might be ordered by a family court judge to stop publicly discussing his family's personal issues.
"Kanye's behavior is becoming more erratic and problematic for his legal case," Davis said in a statement to Newsweek.
"If he continues to engage the public in his personal and private disputes and conversations with Kim, and if she feels threatened or harmed by it, it can be handled in their divorce through a temporary order that prohibits Kanye from discussing the divorce, his kids and his wife's new boyfriend with the public."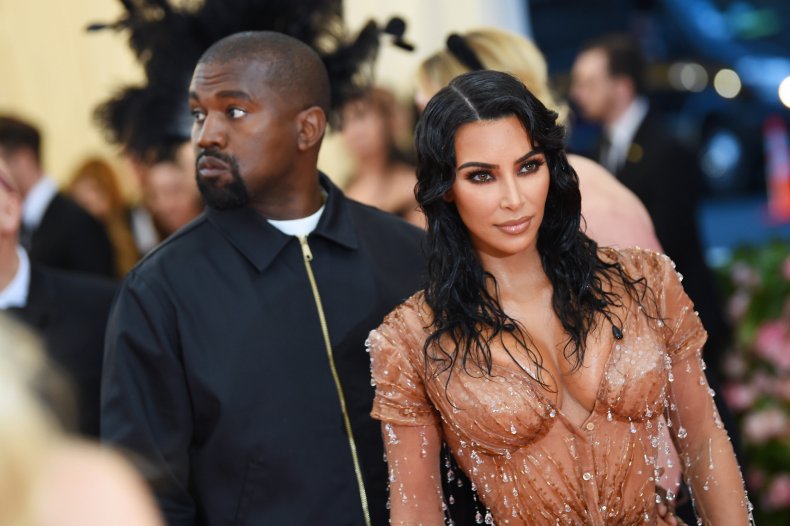 Kim Kardashian West and Kanye West attend The 2019 Met Gala Celebrating Camp: Notes on Fashion at Metropolitan Museum of Art on May 06, 2019 in New York City. DIMITRIOS KAMBOURIS/GETTY IMAGES FOR THE MET MUSEUM/VOGUE
Davis said Kardashian can seek help through her divorce lawyer and the divorce process but this could potentially disrupt their settlement discussions.
"If she thinks the harm or fear outweighs the balance she may be achieving in her settlement process, she might go through with legal intervention to get Kanye to stop posting about their case and lives," she said.
Davis, who has extensive experience in high-net-worth divorce cases has said Kardashian may take measures if "there is a specific threat made by Kanye to Kim, their kids or her boyfriend, that changes the level of acceptability of that public post, and Kim can pursue an emergency order with the court to stop that behavior."
She advised Kardashian and Davidson to "stop communicating with Kanye and start pursuing legal next steps of limiting this type of behavior."
"And while Kim cannot stop her husband from not wanting the divorce, or from pursuing her publicly, she can stop the harassing behavior and threats towards her or the children."
On February 15th, West eventually took to social media to publicly apologize to Kardashian.
In the post, the rapper reflected on his past posts that have since been deleted and acknowledged that his habit of writing in uppercase letters comes off as him screaming at whoever his message is directed at.
"I'm working on my communication. I can benefit from a team of creative professionals, organizers, mobilizers and community leaders. Thank everybody for supporting me," he wrote. "I know sharing screen shots was jarring and came off as harassing Kim. I take accountability. I'm still learning in real time. I don't have all the answers. To be good leader is to be a good listener."
Meanwhile, family law attorney Brent Kaspar of California-based Kaspar Lugay LLP said that "in the State of California, we can stop behavior that disturbs a person's peace."
Noting West's history of volatile behavior and dramatic gestures, Kaspar said: "When all that behavior is added up, a judge could certainly come to the conclusion that Kim Kardashian's peace is being disturbed by Kanye's relentless over-involvement in her life after their separation."
Newsweek has contacted representatives for West for comment.